Ketones and Carbohydrates: Can they co-exist? – The Eating Academy | Peter Attia, M.D.
See on Scoop.it – 21st Century Integrative Medicine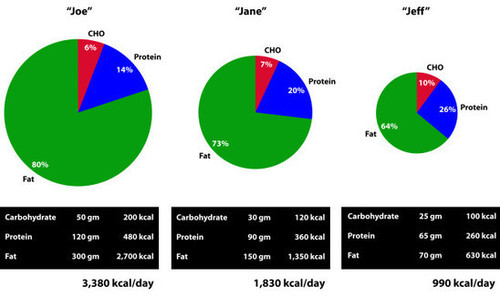 For reasons I'm still struggling to understand, the idea of "nutritional ketosis" (NK, to be distinguished from starvation ketosis, SK or diabetic ketoacidosis, DKA) is often discussed and debated in much the same way as religion or politics. Perhaps this can be said of all nutrition, which is a shame. Nevertheless, in my continued defiance of such sensitive topics, I'd like to add another layer of complexity and nuance to this discussion.
As I've written about before, I've spent much …
Asher Laub's insight:
Optimal energy can be achieved by paying close attention to macronutrient ratios (given quality food choices) calculated based on total caloric intake. The chart provides amazing clarity at a glance. The lower your caloric intake the closer your fats:calories:proteins can be and therefore, the more flexibility you have in your food choices. As daily caloric intake increase (need more energy etc.. or aren't taking supplements) fats must be a higher ratio to that of proteins and carbohydrates in order that the body doesn't get "confused" between NK (that ketogentic metabolic state-ie. burning fat and gluconeogensis, i.e. burning glucose for energy).
See on eatingacademy.com